Our Temecula Probate and Trust Litigation Law Office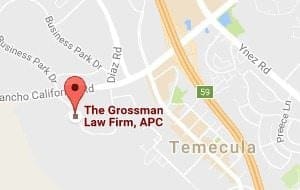 Temecula Office
43537 Ridge Park Drive, Suite 106
Temecula, CA 92590
Phone: (951) 331-3282
Toll Free: (888) 443-6590
Fax: (619) 764-4091
Learn More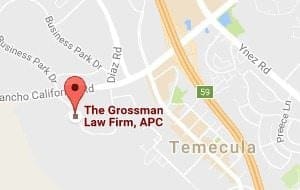 More About Us
About Our Firm
Temecula Probate, Estate and Trust Litigation
Losing a loved one is never easy. During this difficult time, your time and attention should be devoted to your own emotional healing—not caught up in stressful and overwhelming legal issues. Our Temecula, California office is conveniently located to help shorten the distance you have to travel if you need to meet in person with Attorney Grossman. So our goal is to make the process of administering your loved one's trust or estate or pursuing a Temecula probate, estate and trust litigation matter as painless as possible.
Convenient Location on Ridge Park Drive in Temecula, CA
Since losing a loved one is not something that occurs only to certain groups of people. We all suffer this difficult experience, and that means that more likely than not, sooner or later, we will all be involved in a probate or estate administration matter, or even a trust litigation issue we never saw coming. We recognize this fact, and in order to make life a little easier for our clients, we offer locations not only in San Diego or Riverside, but in Temecula as well.  Our Temecula office is near the following landmarks:
Old Town Temecula
Sam Hicks Monument Park
Murrieta Creek
HomeGoods
Rancho Community Church
Our office address is 43537 Ridge Park Drive, Suite 101, Temecula, California, 92590.
Contact our Temecula Office Today
We know that you are dealing with a great deal of stress and emotional strain during this difficult time, it is important to act quickly after your loved one passes. Waiting could cause harm to the assets of the trust or estate. Fortunately, you do not have to navigate this process alone. We are here to help! Contact us today at our toll free number 888-443-6590 to schedule a meeting.
Get the Advice You Need
Please fill out the form to the right and we will contact you to schedule your FREE phone consultation with Attorney Scott Grossman.
You are welcome to call our office at (888) 443-6590 to discuss your situation.
After submitting your information, you will get a confirmation email. Then our intake specialist will reach out to you. You will be asked to share details of the situation and forward copies of documents before your FREE phone consultation with Attorney Scott Grossman.