Julieann Hawk, Receptionist/ Intake Specialist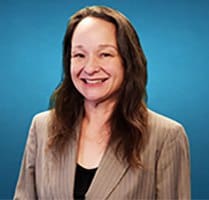 Julieann Hawk
Receptionist/ Intake Specialist
The Grossman Law Firm, APC · 6370 Magnolia Ave, Suite 320 Riverside, CA 92506 · (951) 523-8307
Julie Hawk is our receptionist/ intake specialist and is the newest member of our team.  She is the first point of contact with potential new clients and gladly talks with them about their questions and concerns.  She also spends time talking with our current clients about questions or concerns they have and schedules time for them to meet with their paralegal or attorney when needed. Her responsibilities include answering phones, interviewing potential new clients and setting appointments for staff members for consultations or for clients to speak with their paralegal or attorney. Julie also receives important paperwork to organize consultations and from clients regarding their cases.
Julie earned an AS in Human Behavior from Mount San Jacinto College.  Then she transferred to University of California, Riverside to finish a BS degree in biochemistry.  After working in research and pharmaceutical development for several years, Julie changed her career path, earning her teaching credential from University of Redlands and started teaching middle school math and science.  After more than 15 years in the classroom, Julie wanted to spend more time focusing on her family, so she changed careers again after finishing a paralegal certificate at University of California, Riverside.
Julie met her husband Robert when she was a student at a martial arts academy and Robert was an instructor.  They have now been married for 13 years and live in Riverside with their 11-year-old daughter.  Julie has played soccer in Riverside for almost 20 years and has only recently retired from her team, the Sugar Skulls. Julie hopes that her daughter will take up her love for soccer but so far, her daughter would rather ride her bike.
The Hawk family spends a lot of time outdoors – gardening, hiking, camping and participating in Girl Scouts.  They also enjoy board games, science fiction movies and relaxing around the house while reading or listening to music. Julie's grandfather was a trumpet player so jazz music is the favorite. They love their two cats, Jelly and Molly, and their dog Buster.